Sale
SteamVR Version Bundle of The Tale of Onogoro and Last Labyrinth, TOKYO CHRONOS, and ALTDEUS: Beyond Chronos Now Available
Amata and MyDearest are coming together to collaborate on Steam! These leading Japanese VR game development companies have worked together to deliver the "VR Adventure Bundle" containing four VR adventure game titles (two from each company) on Steam, going on sale today at a special 20% off the price.
The four titles of Last Labyrinth and The Tale of Onogoro from Amata and TOKYO CHRONOS and ALTDEUS: Beyond Chronos from MyDearest are available to buy at a lower price than if bought individually. For those who have already bought some of the relevant titles, you can still find the others for a special price, so please check them out and enjoy the four titles together.
These four titles are also part of the Steam Autumn Sale 2022, which begins today, so the bundle versions will be available at an even better price during this sale. Don't miss this great chance!
Bundle Title: VR Adventure Bundle
Bundle contents: The Tale of Onogoro and Last Labyrinth, TOKYO CHRONOS, and ALTDEUS: Beyond Chronos
Release date: November 23rd, 2022
Price: 124.96 USD →99.97 USD (20% off)

During the Steam Autumn Sale 2022 (until November 29th, 2022, at 10 am PT), additional discounts will be applied to each title.

Steam store page: https://store.steampowered.com/bundle/28374/VR/
An escape-the-room adventure game that can only be experienced in VR, Last Labyrinth was created specifically for the VR age. Players must work to escape a mansion full of hidden dangers with a mysterious girl that appears before them.
The full version was simultaneously released for digital download on November 13, 2019.
Factsheet
Title: Last Labyrinth
Genre: VR Escape-the-Room Adventure
Supported HMD: PlayStation®VR, VIVE, VIVE Pro, VIVE Cosmos, VIVE Cosmos Elite,
Oculus Rift, Oculus Rift S, Oculus Quest, Valve Index, Windows Mixed Reality Headset
Supported Hardware: PlayStation®4, VR Ready PC (Minimum Requirements: Intel® Core i5 4590
or above/NVIDIA GeForce GTX 1060 or above)
Distributing Stores (Download only): PlayStation™Store, Steam®, Oculus Store, Microsoft Store,
VIVEPORT
Number of Players: 1
Online Play: No online play is available
Release Date: November 13, 2019
CERO: D
Price: 3,980 JPY (Excluding tax) (Prices may differ across stores/regions)
Official Homepage: https://lastlabyrinth.jp/en/
Copyright: Ⓒ2016 AMATA K.K. / LL Project
About "TOKYO CHRONOS" and "ALTDEUS: Beyond Chronos," a work in the Chronos Universe series
The Chronos Universe, a group of VR games with the same worldview, has continued with "Tokyo Chronos," "ALTDEUS: Beyond Chronos," and the latest, "DYSCHRONIA: CHRONOS ALTERNATE".
The world is currently expanding with VR games, novels, and goods.
TOKYO CHRONOS
Released in March 2019. The work that started the Chronos Universe.
An empty, deserted Shibuya where time has frozen over. A suspenseful mystery woven by 8 childhood friends trapped inside.
The future of visual novels, storytelling in VR.
This game will put the player directly in the world of the story.
Official Website: https://tokyochronos.com/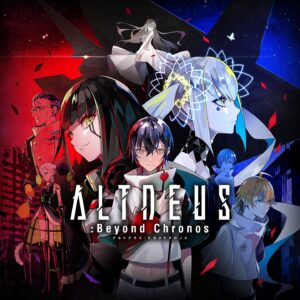 ALTDEUS: Beyond Chronos
Released in December 2020. The second Chronos Universe work.
ALTDEUS features 15-20 hours of gameplay with one of the largest branching storylines ever in a VR game. Become Chloe, a mecha pilot who will have her revenge and annihilate the Meteora once and for all. Pilot a giant mecha and make the decisions to determine humanity's future.
Official Website: https://altdeus.com/