The main theme as well as all other sounds in The Tale of Onogoro were created by the Berens sound team.
The theme song vocalist is Yumiko Takahashi, who has also sung for numerous other video games and music pieces.
The Tale of Onogoro takes place in a parallel world that is similar to Taisho Era Japan and features a new version of the classic Japanese song "Gondola no Uta" as the ending theme.
The original version of the song was released in 1915, near the beginning of the Taisho Era. Singer-songwriter Rekka Katakiri, renowned for her work in various anime and video games, provides bittersweet yet powerful vocals for the track.
The Tale of Onogoro
Music by Berens
Sound Producer
SHINICHI SAKAMOTO
Sound Director / Lead Composer
TAKUYA HANAOKA
Composers
KAORI NAKABAI
HIROYO MATSUYAMA
TAKAYUKI ISHII
TOMOHIRO MORINO
SHINICHI SAKAMOTO
Sound Effect Artist
TAKAYUKI ISHII
Amata Sound Team "Berens" is a cross-company sound project led by members of the Sound Department of Amata Corporation.
We design, produce, and provide game sounds for both internal and external use.
The name "Berens" comes from the name of the meeting room where the Sound Section of the Technical Development Department of Amata Corporation used to hold regular meetings.
"The Tale of Onogoro Theme"
Music
TAKUYA HANAOKA
Lyrics
HIROMICHI TAKAHASHI
Arrange
TAKUYA HANAOKA
Vocal
YUMIKO TAKAHASHI
"The Tale of Onogoro Theme" vocalist: Yumiko Takahashi Profile
Yumiko Takahashi began studying Japanese folk songs at the age of 16 and won an award at the 1996 Japan National Folk Song Contest. After graduating from a design college, she began working in game development as a CG artist and game designer.
She currently works freelance in graphic design, game development management, and writing. Additionally, she works as a vocalist and voice artist at Ethtronic Music Unit AKANE, under the name Yumibo.
Classic Japanese song "Gondola no Uta" as Ending Theme
Music
SHINPEI NAKAYAMA
Lyrics
YUSAKU YOSHII
Arrange
KAORI NAKABAI
Vocal
REKKA KATAKIRI
Lyric Video for "Gondola no Uta"
"Gondola no Uta" vocalist: Rekka Katakiri Profile
Rekka Katakiri is a content creator whose content centers around her activities as a singer.
From powerful to dainty or from cute to heroic, her unique "kaleidoscope voice" allows her to paint each song she sings with a different musical color.
Rekka is a versatile artist that is not only involved in the writing and composing aspects of the music creation process, but is also involved in project planning, graphic design, event planning, and record studio management.
Official The Tale of Onogoro Soundtrack
The music featured in The Tale of Onogoro was available to stream or download on all major platforms on March 26, 2022. The sound team at Amata, Berens, was deeply involved in the creation of all the music featured in the game. Individual songs will also be available for streaming.
The Tale of Onogoro Original Soundtrack is now available on Steam / PlayStation Store, following the release of the SteamVR and PlayStation VR version of The Tale of Onogoro. A bundle version with the game was also released.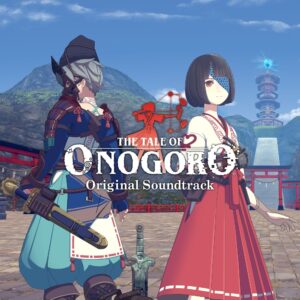 Soundtrack Details
Album Title: The Tale of Onogoro Original Soundtrack
Included songs: 22 songs including "The Tale of Onogoro" feat. Yumiko Takahashi, "Gondola no Uta" feat. Rekka Katakiri
Store: iTunes Store and others
Streaming Platforms: Apple Music, Spotify, Amazon Music Unlimited, AWA, KKBOX, YouTube Music and others
Release Date: March 26th, 2022
Price: 9.99 USD (

Prices may differ across stores/regions

)
Distribution Site URL: https://linkco.re/rZhzAZdY
Steam Store URL: https://store.steampowered.com/app/2110660/
PlayStation Store URL: *

Please access 

The Tale of Onogoro

 on your PS4.
Distribution site
Steam Store